Our turistic offer
Informations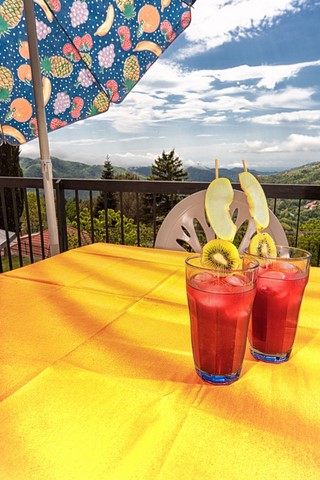 Services provided ( always included in the price ) :
- Free use of equipped kitchen - barbeque - pizza oven
- Sheets and towels (change every 3 days)
- Italian breakfast with natural , seasonal food
- Internet wi - fi
- free parking
- Luggage custody
- Access for the disabled , disabled toilet
- Independent access for guests ( no time limit )
- heating
- hairdryer
Additional services ( extra) :
- laundry service
- Ironing Service
- Photography lessons ( italian - Inglese )
- Music fitness classes ( italian - Inglese )
- Guided tours ( with G.Raffaelli Meteorological Observatory )

Available in the area:
- Restaurant "Il Santuario " / pizzeria "Il Giardino" in Torza (1.5 to 4 km)
- " Samuele Ranch " riding stables in Castiglione Chiavarese ( 9 km)
- Adventure park Tavarone ( 9 km)
- Swimming pool in Varese Ligure / Sestri Levante (16 km )

The Petronio Valley
The Petronio valley is an ancient valley, known already at the time of the Roman Empire , in the dominium of the nearby city of Genova.
The valley situated in the far east of the Genoa metropolitan area , on the border with the province of La Spezia , is named after the namesake creek that here flows through the valley . The valley combines four municipalities , two of which are on the coast ( Sestri Levante and Moneglia ) , and the remaining common places in the Ligurian hinterland ( Casarza Ligure and Castiglione Chiavarese ) .
In its nature trails they will retrace the ancient Roman trenches , such as Via del Bracco ancient road connecting the Liguria with Central Italy .
Place to visit
Our structure is in the very center of a really interesting area, which offers alot to
Hiking trails = 0 km -> clickhereto download the trails roadmap
Varese Ligure = 13 km
Sestri Levante = 16 km
Moneglia = 25 km
Chiavari = 28 km
Cinque Terre = 40 km
Portofino = 50 km
Carrara = 60 km
Acquario di Genova = 65 km
Pisa = 105 km
Parma = 120 km